Business design competition semi-finalist @ Rotman Design Challenge 2022

Team:
Alejandra Farías
Justine De Ridder
Martha Chomyn
Thomas Changarathil
Date:
February-March 2022
Responsibilities:
Research, interviewing, ideation, graphic design, mapping, use of foresight and HCD tools.
Context
The Rotman Design Challenge (RDC) brings together top talent from leading business and design schools to propose solutions to complex business challenges from a high-profile sponsor. The 11th edition of RDC brought SMBC Aviation Capital as their partner for the 2022 competition.
Headquartered in Dublin, SMBC Aviation Capital is a leading global aircraft leasing company. And while they are not precisely an airline company, they took a hard hit from the recent Covid-19 pandemic after several months of flight restrictions. Additionally, given the high impact that air travel has on the environment and keeping in line with the objectives of the Paris agreement to limit global warming, airlines have committed to achieve Net Zero carbon by 2050.
The Challenge
As SMBC Aviation Capital will be directly affected by these commitments, the competition posed the following question:
"How might SMBC Aviation Capital, a leading global aircraft lessor, re-design its current business model so that it may continue to thrive while also accelerating the decarbonisation of the aviation industry."
As part of the competition and to support our process, we went through various stakeholder interviews hosted by RDC, and participated in workshops in topics that that ranged from need finding, business prototyping, and storytelling.
The team
Watch our team's video application to the competition available on YouTube.
Insights from SMBC
Sustainable solutions have not been implemented and are not at scale

SMBC is the middleman with no entry point in the sustainability space

SMBC's reputation can be leveraged, but new players may arrive
Insights from Airlines
They have their own carbon emission offset strategies

The pandemic disrupted everything

Sustainability is deprioritized over safety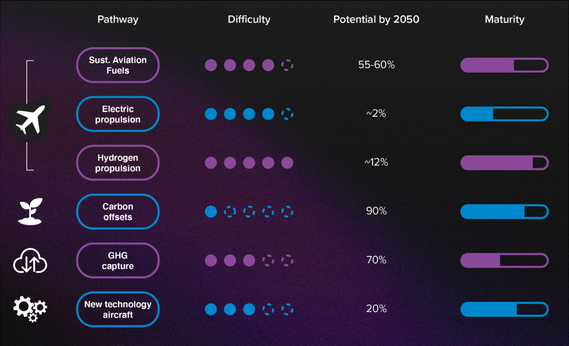 Needs identified:
Science-based targets

Standardized metrics to measure emissions

Regulation & policy to enforce transparency

Science-based system to identify which initiative to back

Rotman Design Challenge 2022