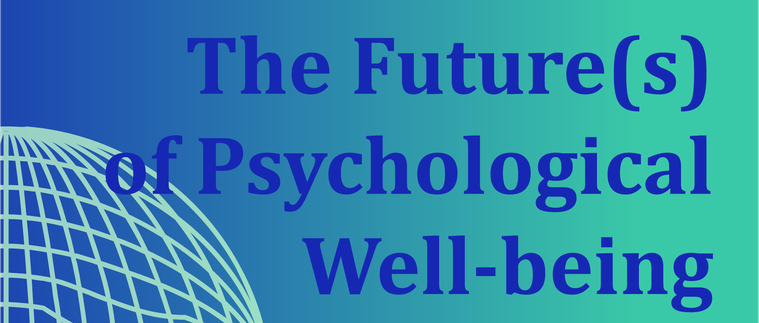 OCAD University
Course:
Foresight Studio / Strategy Development
Team:
Alejandra Farías, Carrie Emblem, Danielle Lim, Eva Ng
Date:
Winter, 2021
Responsibilities:
Research, trend scanning, foresight scenarios and strategy development, illustration.
Context
This project is the final deliverable of two courses at OCAD U: Foresight Studio and Strategy Development. An extensive final dossier reflects the series of strategic consulting activities carried out for the fictitious company Wemedics, employing a series of foresight tools and frameworks.
Scanning
As a first step for this project, a process of horizon scanning lead us to identify a series of relevant trends for the company and the field of psychological well-being, shown below. The last four are highly speculative towards 20 years in the future, derived from particular signals and related trends.
Trends:
Humanized Robots
Booming Wellness Market
AI Ethics & Regulations
Destigmatization of Mental Health
Luxury Space Tourism
Friendly Robo-nauts
Staying Grounded in Outer Space
Love, to the moon and back
Scenario development
Our team developed four scenarios using critical uncertainties, on a 2X2 matrix with inspiration from The 4 Generic Archetypes framework. The two axes of the 2x2 were Technological Acceptance/Rejection and Institutional/Individual.
The four quadrants represent the extremes of possible scenarios where specific trends would perform differently, helping us get a more wholesome look to inform potential changes, patterns, and directions.
Artifacts
Based on the game The Thing From the Future, created by Stuart Candy and Jeff Watson. This activity challenged us to describe objects from a range of alternative futures. The artifacts, are objects held by one character from each scenario during a security checkpoint in each scenario. These items are deeply important to the characters and always kept on their person. They evoke feelings of comfort, protection, and security. There are three artifacts per scenario to provide additional context and provide a more visual and tangible experience for the reader.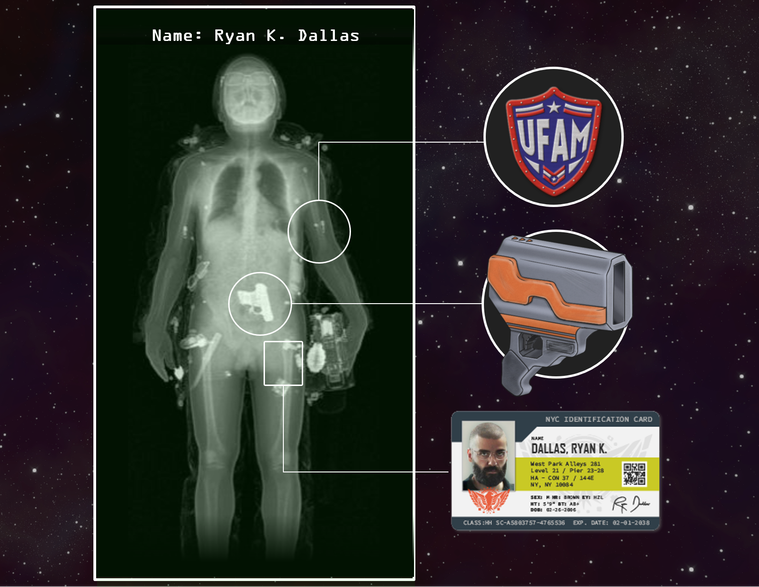 Timor Machina
Collapse scenario
Artifact 1: United Front Against Machines Patch
Thepatch belongs to the UFAM, a far-right,nationalist organization known for speaking up against robots and AI ridding people from their jobs and surveilling the population. They havebeen publicly involved in riots and protests dismantlingof city robots following the tragedy.
Artifact 2: Buzzbuster'gun'
The Buzzbusteris the successor of the Dronekiller. Its technology has evolved to disrupt drones, robots, cameras, and even permanently damage computers and smart gadgets. Assuch, its use is restricted for military use only. This confiscated device hasa scratched serial number.
Artifact 3: Expired National ID card
Ryan K. Dallas carries his ID mainly for security purposes, as he knows it is the only document he needs to prove his citizenship and demand his legal rights.
Developing Strategic Options
To generate a variety of strategic options, we used Zanoni, Vernizzi, and D'Anna's Nine Types of
Strategic Options framework (2014) and listed the relevant trends and strategies that would be suitable for each section.
Then we created descriptions per strategic option based on the trends and insights we gathered. And finally, we evaluated each individually based on specific criteria (financial feasibility, fit with mission/values, risk/safety, etc), to determine which was a better fit on a first evaluation.
Windtunnelling
As a next step to test the robustness of each strategy, we conducted a Windtunnelling process, where the business idea was confronted with the developed scenarios to test whether is it the right formula to face the future.
Here, we used four criteria: financial fit, strategic fit, level of risk, and cultural fit. These four criteria represent alignment with Wemedics' mission, their staff, financial and operational feasibility, and amount of risk Wemedics is willing to take on. This was to ensure Wemedics' internal integrity and ability to grow in our final recommendation.
Cone of Possibility
This tool serves as a graphical illustration of the relationship between the present and the certainty of our knowledge about future events.
This helped us to situate Wemedics and what future scenarios may lie ahead. Backcastin 20 years from now (2041) to the present, looking for directionality of
The Four Generic Archetypes along with drivers and emerging trends.
With our windtunnelling results, we suggested a combination of flexible and multiple coverage strategy over the next 20 years. This was mindful of the idea that a solid strategy should not last more than 5 years, however, by using foresight tools, the company can identify and be vigilant to specific events, trends and business performance, for which a long range strategy is bound to be reviewed and adjusted every couple of years.
Strategic Pathway
This three-phased flexible, multiple strategic plan reflects our Cone of Plausibility mentioned earlier as Techno-Health and Zen-Tech Exploria scenarios are likely to occur as they have express trends and signals of the continuation of our current state. Timor Machina and Cloud State are more likely to occur in the distant future and less possible. Each phase should overlap to ease the transition as signposts begin to appear.
To learn more about the reasoning and full process of how we developed each strategy, description and windtunnelling, please refer to the full document found here.